Do you ever wish you could exchange photos more easily with family and friends who live far away? That's definitely our situation.
We live in Minnesota while my entire family lives in Virginia. We don't get to see them very often. So when I had the opportunity to review the CEIVAshare Digital Photo Frame™ I knew this would be fantastic for our family!
Here are some facts about the CEIVAshare Digital Photo Frame™:
Daily automatic display of 40 new photos from friends and family with every PicturePlan update - you don't have to do a thing.
Uses built-in memory card reader to see all your photos from a camera memory card.
Send photos from Facebook, Picasa, iPhone, iPhoto, email, or camera phone with CEIVA Sender™ and CEIVAmobile™ plugins and software.
PicturePlan® photo delivery service required - frame comes bundled with one year
Connects through ordinary phone line; you don't even need a computer to receive photos from friends and family. (Broadband and Wi-Fi adapters also available.)
Comes with free invitations for guests to send photos from anywhere in the world.
Includes unlimited photo storage and customization on www.ceiva.com, including channel selections (news, weather, calendar, sports & more), photo editing applications and greeting cards.
Enhances photos with CEIVA True-to-Photo™ image and color technology for optimal photo display quality - no cropping, squishing or stretching.
Displays photos brilliantly with high-resolution 8-inch active matrix digital LCD screen, viewable from virtually every angle.
Sports traditional easel-back picture frame design.
Uses simple six-button remote and on-screen menu to control display modes, rotation and deletion, slideshow transition and timing, screen on and off times and more.
My dad was sent a frame and I received one. After about 2 hours of trying to figure it out, I had to call my dad and see if he could help me. He said it took him an hour to get his working, but at least it was working.
Because I got ours just before Memorial Day Weekend, I had to wait until Tuesday to talk to someone at CEIVA. Man was I bummed! When I got hold of their customer service, they were super helpful! That I know if, they didn't know I was a reviewer because I didn't tell them. I figured, what better way to test out their customer service than to have a valid issue?
Here the photos are transitioning.
They got my frame working in about 5 minutes. It wasn't the frame that was having the issue, it was my computer! Grrr, ancient computers can be real stinkers.
My dad, oh my dad. He refused to believe that I was able to put photos on his photo frame. He believed it was only for him to load his photos to. We went round & round. I was like, "Hello, I'm the reviewer!" Finally I said, "Fine, I'll show you!" LOL Ah, some things never change.
Here I can use the remote control (which hides out behind the frame) to sort thru the photos.
It was all still new to me so I only sent him one photo. Of course, it loaded up to his frame! Does he admit he was wrong? No, he says I have to ONLY take photos in landscape! Um, ok dad.
So, I've sent them photos from Doodle's birthday party, our trip to the Sculpture Garden, Doodle talking with grandma on the phone for his birthday, Buddy playing baseball and our nature hike.
The photos are clear and look just like a print photo. At night if I want to turn down the brightness, I just press the buttons on the back and it dims to my liking.
I have the ability to lock certain photos in the frame so that way when we get to maximum capacity they don't get bumped off the frame. I can have up to 40 photos on the frame. When I go to upload more, the first ones that are on the frame will be bumped off.
I'm still waiting for my dad to send me the photos from their Anniversary trip! He does upload photos from his cell phone directly to his frame, and can't stop talking about this feature!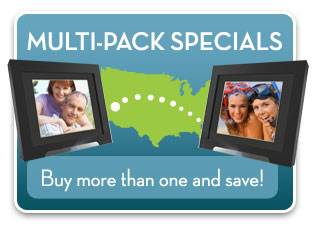 How does CEIVA stand out from other digital photo frames? Let them tell you!
"As the inventor of the connected digital photo frame CEIVA Logic, Inc. is fortunate to be recognized as an industry leader and innovator in the premium digital photo frame category. CEIVA frames, which work in conjunction with all that is bundled in our patented PicturePlan® Photo Delivery Service, create unique photo sharing micro-communities that connect family and friends together. For nearly a decade now this exclusive ability, to connect and share, has set us apart from all other frames on the market."
Where can you find CEIVA?
UPDATE!! I got an email from CEIVA today and they said they'd love to offer one of my readers a CEIVA Pro 80 with a one-year PicturePlan (RV $219.95)! Ahhhh I'm so excited for you guys!
I'd like to clarify why there are 97 entries for the winner to be chosen. I didn't close my comments on my other post about this giveaway, so I had to add 22 comments to this post. Putting them in where they fit, #90 is actually #68 on this post with the 22 comments added in. Sorry for the confusion. I have certainly learned a lesson!
REQUIRED: Visit CEIVA and tell me which feature of the CEIVA Pro 80 is what you are looking forward to the most!
Giveaway open to US Residents 18 yrs and older. Please leave an email address or have it available in your profile in your FIRST comment. No email/contact = No entry. Giveaway ends 7/13, 10pm CDT. Winner has 48 hours to respond to winning email.
Extra Entries:
Follow Marvelous Mom Reviews (1 entry)
Add MMR to your blog roll (2 entries, comment 2x)
Add my button to your blog/site (2 entries, comment 2x)
Follow me on Twitter (1 entry)
Follow CEIVA on Twitter (1 entry)
Tweet this giveaway (1 entry daily) "Win a CEIVA Pro 80 + one-year Picture Plan RV $219.95. Perfect way to share photos w/ family & friends #giveaway @ceiva http://bit.ly/aM4V2I"
Follow CEIVA on Facebook (2 entries, comment 2x)
Follow CEIVA on their blog (2 entries, comment 2x)
Enter any of my other giveaways (1 comment per entry)
I'd like to thank CEIVA and Pitch It To Me for my review photo frames! My experience with my CEIVAshare and opinion may differ from others.