Ok, so I think I've got the cutest kids and pets. LOL Who doesn't right?
CEIVA is having a Pet Photo Contest right now to see if your pet has what it takes! Here's what their site says:
"Think your pet has what it takes to be a superstar? CEIVA wants your best pet photos to star in our all-new Pet Photo Channel, available exclusively on CEIVA Connected Digital Photo Frames.
Send in your photo for a chance to be featured on the Pet Photo Channel and win a completely customized CEIVA Pro 80 Digital Photo Frame with a special skin made from your photo! But hurry! Entry submission ends July 29, 2010!

Follow CEIVA Joe to see the top entries so far!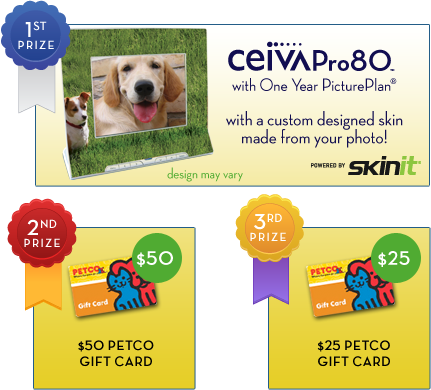 1st prize is a CEIVA Pro80 with One Year PicturePlan
2nd prize is a $50 Gift Card to Petco
3rd prize is a $25 Gift Card to Petco
Don't forget to enter to win my Giveaway of the CEIVA Pro80 Digital Frame on my site. Check it out on the right sidebar under "Current Giveaways"!
This post was not sponsored, I'm posting to share with my readers. =) I did enter Rugby, but that has nothing to do with this post. Yep, just posted out of the goodness of my ♥.